The Vichy Government have a new single out on Monday 22nd June. It is called 'The Man Delusion' and it is backed with 'Flytipping'. It will be available to download from iTunes, whilst luddites can obtain a CD (with beautiful artwork) from Repeat Records via Big Badger Recording Co.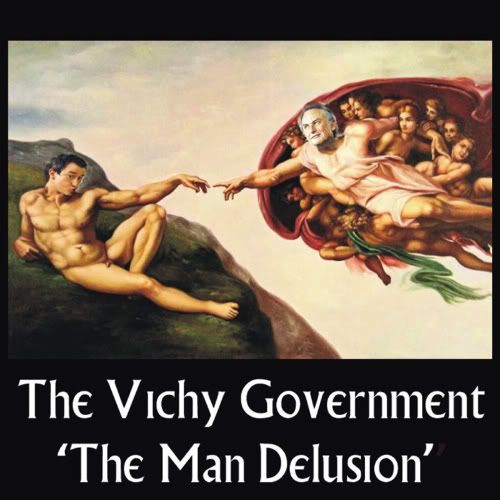 'The Man Delusion' sees Jamie Manners and Andrew Chilton at their best; it is a riposte to the recent proliferation of Fashion Atheists who want a big shiny medal for substituting Christ with Charles Darwin, and it sounds like 'Glass of Champagne' by Sailor.
'Flytipping' is a lighthearted look at one of the favourite pastimes for residents of the London Borough of Hackney, propelled by a monstrous riff that will live long in the memory of the 5 people who hear it.
Next gigs are Friday 7 August (Powers Bar, Kilburn High Rd, free entry) and Saturday 19th September (Portland Arms, Cambridge).
Angular is...
giving you a mention
Angulate: Sign up to mailing list
Angular Elsewhere
RSS Feeds
Angular News Feed