Posted 25th March 2009 in
Navvy
This week's NME seems to be mostly dedicated to Navvy, click the image below for a closer view: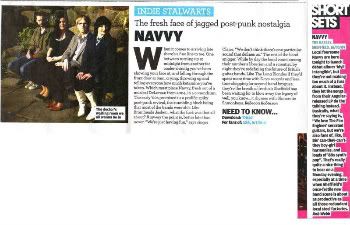 The band have also got a Marc Riley 6Music session confirmed for April 16th and embark on a nationwide tour starting May 1st. So keep 'em peeled.
In
Crystal Stilts
news, hop over to
pitchfork TV
for an excellent practice space session. We're also delighted to tell you we're going to be releasing their brand new 7" 'Love Is A Wave' this May!
Angular is...
giving you a mention
Angulate: Sign up to mailing list
Angular Elsewhere
RSS Feeds
Angular News Feed