Once we'd found the basis for the logo, the next job was to calculate the angles and scale of the metal plug (easy! 180 / 3 = 60 degrees between each prong) and make a representation of it in a vector graphics editor. You can see how this looked here:
This gave us a good idea of the scale and dimensions of the plug and how it would look with some text added. However, it was obvious that this was too complex for a logo and strayed from the original brief to produce an imaginary map symbol... so back to basics we go, this time on a photocopier. This version is getting closer to the final logo now, with three identical shapes that fit together.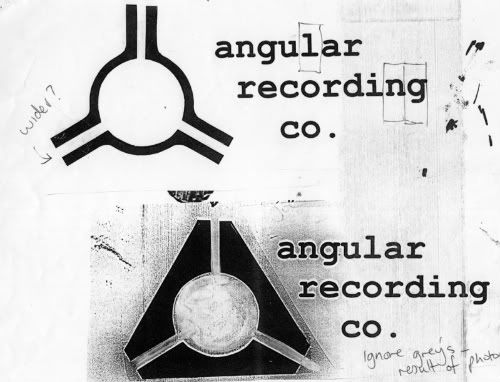 As you can see there were two different options - the rejected one filled in the corners of the shapes to make bolder blocks. I still quite like this one, and it may one day be revived for a sub-label called 'Triangular'... However the top option was deemed the best, so we set about adding text (in the OS approved Gill Sans font) and a border with curved corners to produce this - the proto ARC logo: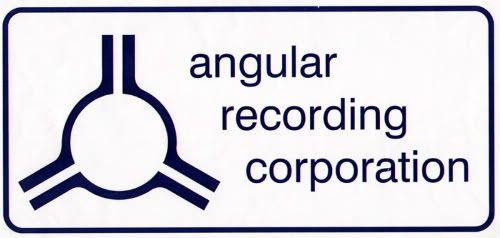 END OF PART 2
Angular is...
giving you a mention
Angulate: Sign up to mailing list
Angular Elsewhere
As their name suggests, These New Puritans are a group on a very precise mission. Hailing from around Southend-On-Sea, and consisting of Barnett, his twin brother George, Thomas Hein and Sophie Sleigh-Johnson, they have established their reputation through a series of high profile live appearances alongside the likes of The Kills and Klaxons. They first came to prominence with their 2008 debut album, Beat Pyramid. Urgent, pared down, eyes on stalks, sharp as a stick, it was hailed by the NME as demonstrating a "span of ideas and singularity of vision that simply shouldn't happen to 20 year olds. They've created their own imperfect world."
A new version of the Deluxe Special Edition Reissue of Ruth's ''Polaroïd/Roman/Photo' to be released on Angular on 4th December.
RSS Feeds
Angular News Feed